We're delighted to have completed another biomass heating project supported via the Support Scheme for Renewable Heat (SSRH). The system is now fully commissioned and supplying carbon neutral heat, the biomass system is backed by quarterly payments from the Irish government for the next 15 years under the SSRH.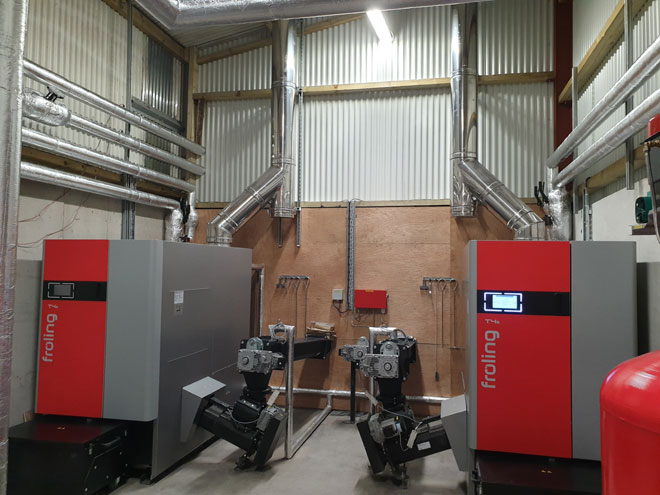 Highlights of the project include:
2 x 200kW Fröling T4e wood chip boilers
Woodchip out-feeders with separate drive operatio
10000l bespoke buffer tank / thermal store
Complete mechanical and electrical installation completed by our in-house team
Heat meters for SSRH quarterly payments
Fröling T4e Biomass Boiler
The T4e wood pellet / wood chip boiler is the next generation biomass boiler from Europe's leading biomass boiler manufacturer, Fröling. Founded in 1961, Fröling now looks back on over 5 decades of experience in wood-heating technology.
Innovative features of the T4e wood pellet / wood chip boiler include
4 piece tilted combustion grate to ensure complete combustion and grate cleaning during operation
Premium-quality high-temperature combustion chamber with firebrick lining for minimum emissions and optimal combustion at a high efficiency
Automatic heat exchanger cleaning to ensure high efficiency is maintained throughout operation
Flue gas recirculation system as standard
Since 1998 over 300 Fröling boilers have been installed in the Republic of Ireland making it the people's most trusted choice in biomass boilers.
Services Rendered
SSRH application and verification
Design and Installation
Commissioning
Customer free remote access via app
Agreed annual maintenance costs including any spare parts for the next 5 years
If you are a commercial customer and have an interest in converting from oil or LPG to biomass heating, the Now Live SSRH will support the installation of a wood pellet or wood chip heating system via an annual tariff-based system, to find out more about the SSRH please follow the link below:
https://www.seai.ie/business-and-public-sector/business-grants-and-supports/support-scheme-renewable-heat/
If you'd like to discuss the SSRH with us, please get in touch with us today!