Project
Daly Poultry Farm, Dungannon, Co. Tyrone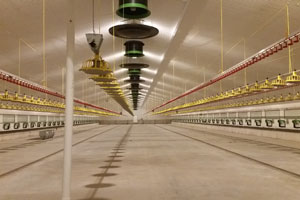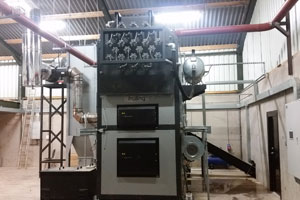 System Specification
1MW Fröling Lambdamat (LM) boiler with hydraulic walking floor fuel store
15000l buffer tank with low loss thermal insulation
3no circuits of pre-insulated pipe work from boiler house to broiler houses
High efficiency gas backup system integrated with biomass system
Remote monitoring and visualisation system
Fuel
Locally sourced woodchip
Fuel Consumption
800 Tonnes per annum
Fuel Delivery Method
HGV with moving floor delivers the woodchip into the large fuel shed
CO2 Saving
560 Tonnes per annum
Financial Saving
Support Scheme for Renewable Heat
An agricultural site with a similar heat profile would expect to receive annual payments of approx. €45,000 per annum for 15 years under the support scheme.
Boiler
The Fröling 1MW Turbomat woodchip boiler is equipped with a high temperature cast iron step grate inside the combustion chamber. Combustion is efficiently controlled from the Fröling SPS 4000 touch screen control system. Primary, Secondary and Tertiary air are injected at separate combustion areas via rotary slide valves and modulating actuators.
Fuel feed system
The system consists of two hydraulic rams and sliding floor which push the woodchip into a feed auger from where the boiler control unit adjusts the rate of feeding into the combustion chamber.
Services Rendered
Design
Installation
Commissioning
Customer free remote access via any web browser
Service support via free online web browser
About the Client
Daly Poultry is a family run business located near Dungannon, Co Tyrone. The newly constructed site consists of a number of large chicken broiler houses. These houses are heated via both underfloor heating and fin-tubed piping. Daly Poultry have utilised a Fröling biomass boiler since 2006 with the installation of a TM 220kW woodchip system at their home site located near Moy, Co. Tyrone.
Download Project PDF
Project Video